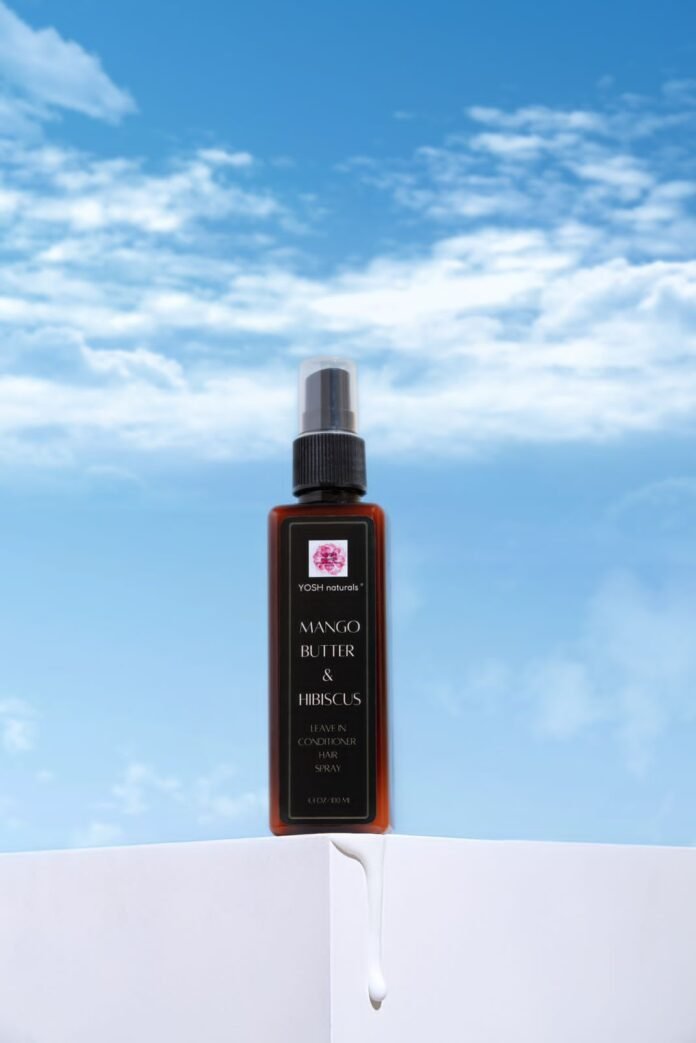 Yosh Naturals offers handcrafted, natural, vegan, and cruelty-free skincare and haircare products by Esha Kanakia, a former dentist turned entrepreneur. Her passion for skincare led to remarkable results and the birth of Yosh Naturals, revolutionizing the skincare industry. With a commitment to quality, affordability, and travel-friendliness, their small-batch products preserve natural essence. Among formula's that are intentional and real, The Leave-In Hair Conditioner Spray is their front-runner, as it adds oomph and nourishment to your hair, anywhere.
Elevate your hair care routine with the Yosh Naturals Leave-In Hair Conditioner Spray.
Nourish Your Hair Naturally:
Yosh Naturals' formula uses natural ingredients for healthy, lustrous hair. Their Leave-In Hair Conditioner Spray with mango butter and hibiscus provides optimal hydration and nourishment. Our formula is free from harsh chemicals, sulphates, and parabens for the best care!
Benefits of the Leave-In Hair Conditioner Spray:
Hydration and Moisture: Formulated to deeply moisturize and hydrate your hair, leaving it soft, silky, and manageable. It helps to combat dryness and frizz, making it easier to style.
Detangling and Smoothness: The lightweight spray detangles knots effortlessly, smoothing cuticles for tangle-free, smooth locks.
Protection from Heat and Environmental Damage: The spray shields hair from heat and pollutants, creating a protective barrier, minimizing the risk of hair damage.
Revitalizing and Nourishing: Infused with the goodness of essential oils, this leave-in conditioner nourishes your hair from root to tip.
The Allure of Natural Fragrance:
Yosh Naturals' Leave-In Hair Conditioner Spray nourishes and offers an enticing fragrance. Infused with rose water, aloe vera extract, and essential oils, it leaves hair delicately scented. Perfect for summer hair care, and suitable for both men and women.
A Commitment to Sustainability:
Yosh Naturals cares for your hair and the environment. Their eco-friendly products promote sustainability. Choose their Leave-In Hair Conditioner Spray for beautiful, healthy hair and a greener planet.
Elevate your hair game with Yosh Naturals' Leave-In Hair Conditioner Spray. Deep hydration, detangling, and protection with natural ingredients is the talk of the season. Say goodbye to harsh chemicals and embrace healthier, vibrant hair this year. Enjoy the refreshing fragrance with every spritz.
Explore their website and embark on a journey of self-love: https://yoshnaturals.online and join their
inner community: https://instagram.com/yoshnaturals?igshid=MzRlODBiNWFlZA=