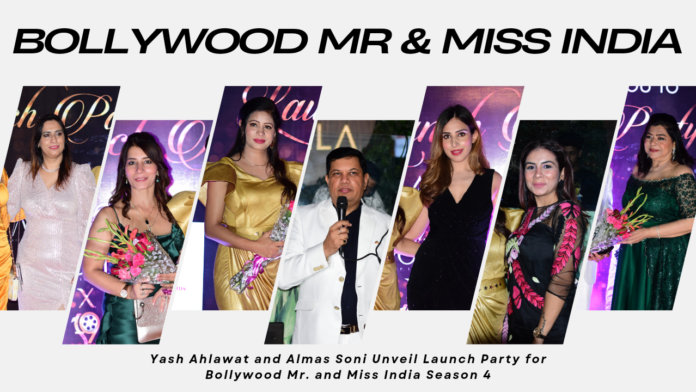 Renowned film financier, director, actor, and founder of Studio 19 Films, Mr. Yash Ahlawat, hosted a grand launch party at Aquila Delhi on August 6th, 2023, to kick off the excitement for their upcoming fashion extravaganza, "Bollywood Mr. and Miss India Season 4." Scheduled to take place from September 26th to October 1st, this highly anticipated six-day event promises to bring together a constellation of Bollywood celebrities, prominent business magnates, celebrated fashion designers, top models, and makeup artists.
The launch party witnessed a glamorous gathering of prominent personalities from the worlds of fashion and film, business tycoons, investors, and renowned influencers. The attendees came together to extend their heartfelt wishes for the success of the upcoming fashion show, dancing the night away in an atmosphere of celebration.
At the heart of this event is the collaboration between Mr. Yash Ahlawat and Mrs. Almas Soni, the visionary founder of Alroz Aviation Institute. An accomplished educationist, entrepreneur, and fashion enthusiast, Mrs. Almas Soni is partnering with Studio 19 Films to bring the event to life. The launch party saw Mr. Yash Ahlawat and Mrs. Almas Soni welcoming their esteemed guests, joined by their respective teams.
"Bollywood Mr. and Miss India Season 4" holds the promise of being a gateway to the Bollywood industry, offering budding talents an unprecedented opportunity to make their mark. The event is designed to serve as an entry ticket to the world of Indian cinema, a platform where fresh faces and emerging talents can showcase their potential and passion.
One of the highlights of the launch party was the presence of the esteemed celebrity guest, Miss Simran Kaur. Miss Kaur, a popular actor and the beloved voice behind the iconic cartoon character Doraemon, added a touch of star power to the event.
With three successful seasons under their belt, this fourth installment of "Bollywood Mr. and Miss India" is poised to be even grander and more captivating than ever before. As auditions for the event continue, aspiring participants eager to be a part of this prestigious fashion show are invited to reach out via the official website, www.studio19films.com, or by calling 08527178925.
As the launch party concluded with joyous celebrations, the stage is set for "Bollywood Mr. and Miss India Season 4" to captivate audiences and propel fresh talents into the spotlight of the Indian entertainment industry.