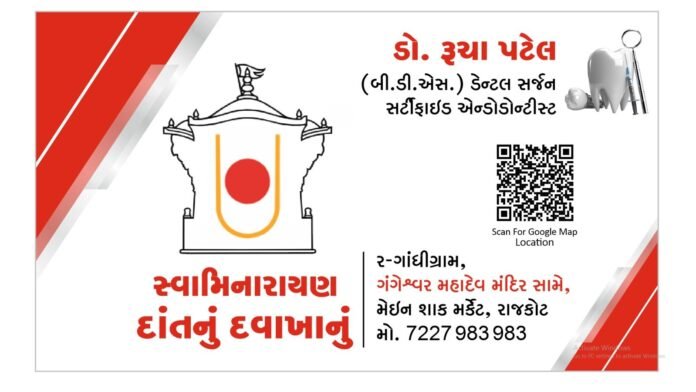 Rajkot, Gujarat – Swaminarayan Dental Clinic, led by Dr. Rucha Patel, has been serving the community with top-notch dental care for the past 7 years. With a reputation as one of the best dental clinics in Rajkot, the clinic offers a wide range of dental treatments, ensuring healthy smiles for all its patients.
Conveniently located at 2-Gandhigram, Main Road, near the Gangeshwar Mahadev Temple and the Main Vegetable Market, Swaminarayan Dental Clinic provides a welcoming and comfortable environment for individuals seeking dental care. Dr. Rucha Patel, a skilled dental surgeon, brings her expertise and passion to the clinic, ensuring that each patient receives personalized and comprehensive treatment.
The clinic prides itself on delivering exceptional dental care services, catering to various oral health needs. Whether it's routine check-ups, preventive care, or more specialized treatments, Swaminarayan Dental Clinic offers a wide array of services, including dental cleanings, fillings, root canals, extractions, crowns, bridges, dentures, and cosmetic dentistry procedures.
Dr. Rucha Patel's seven years of experience in the field, coupled with her commitment to staying updated with the latest advancements in dental technology and techniques, ensures that patients receive the highest standard of care. By employing state-of-the-art equipment and adhering to strict sterilization protocols, the clinic maintains a safe and hygienic environment, prioritizing patient well-being at all times.
To further enhance patient convenience, Swaminarayan Dental Clinic maintains an active online presence. Patients can follow them on Instagram (@dentistinrajkot) and connect with them on Facebook (facebook.com/dentistinrajkot) to stay updated on dental health tips, promotions, and clinic news. The clinic's website (dentistinrajkot.org) offers comprehensive information about the services provided, allowing patients to make informed decisions about their oral health.
For those seeking dental care in Rajkot, Swaminarayan Dental Clinic stands out as a trusted choice. Their commitment to excellence, compassionate approach, and dedication to patient satisfaction have earned them a loyal clientele.
If you have experienced outstanding dental care at Swaminarayan Dental Clinic, please consider leaving a 5-star review on their Google page (https://g.page/r/CXPQUkdMbnHnEB0/review). Your feedback will not only express appreciation for the clinic's services but also assist others in making informed decisions about their dental needs.
In conclusion, Swaminarayan Dental Clinic, under the proficient leadership of Dr. Rucha Patel, continues to provide exceptional dental care in Rajkot. With its commitment to patient well-being, state-of-the-art facilities, and comprehensive range of services, the clinic is undoubtedly a go-to destination for all dental needs in the region.
For further information or to schedule an appointment, please contact Swaminarayan Dental Clinic at 7227983983.