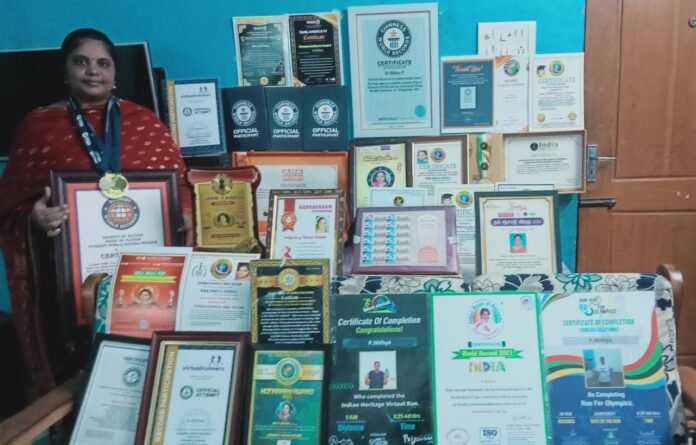 P. Nithya, an extraordinary individual hailing from the serene district of Krishnagiri in Tamil Nadu, has carved an inspiring path for herself, overcoming barriers and achieving remarkable feats in education, social service, and personal accomplishments. With an illustrious career in teaching, a loving family, and an unwavering dedication to making a positive impact in society, P. Nithya has become a role model for women around the world. Her story is one of resilience, determination, and the pursuit of excellence.
Early Life and Education:
Born in Kaveripattinam, Krishnagiri District, P. Nithya was the fifth daughter in a close-knit family. From a young age, she displayed a keen interest in academics, particularly in the field of mathematics. Fuelled by her passion for learning, she pursued higher education and attained M.Sc., M.Ed., and M.Phil. degrees in Mathematics.
Career and Social Service:
P. Nithya's career in education spanned over a decade, during which she worked in both private schools and polytechnic colleges. Her commitment to nurturing young minds and providing quality education earned her the admiration of students and colleagues alike. Additionally, she dedicated herself to various social causes, founding the Annai Trust in Velachery, Chennai.
World Records and Achievements:
P. Nithya's pursuit of excellence extended beyond the classroom. She holds an astounding ten Individual World Records and ten Team World Records, demonstrating her exceptional abilities and determination. Her accomplishments include being a Guinness World Record holder and achieving records in mountaineering, poetry, and various other domains.
Contributions to Tamil Literature and Language:
Recognizing the importance of preserving and promoting the Tamil language, P. Nithya has composed numerous poetry anthologies and Singapen books. Her works have contributed to the development and enrichment of Tamil literature, making her a celebrated figure in the literary community.
Awards and Recognitions:
P. Nithya's relentless dedication to social service has garnered her several prestigious awards and accolades. She has been honored with the Best Social Service Award six times by various organizations and trusts. Notably, she received the Singapen Award, Veeramangai Award, and Vairamangai Award for her outstanding contributions.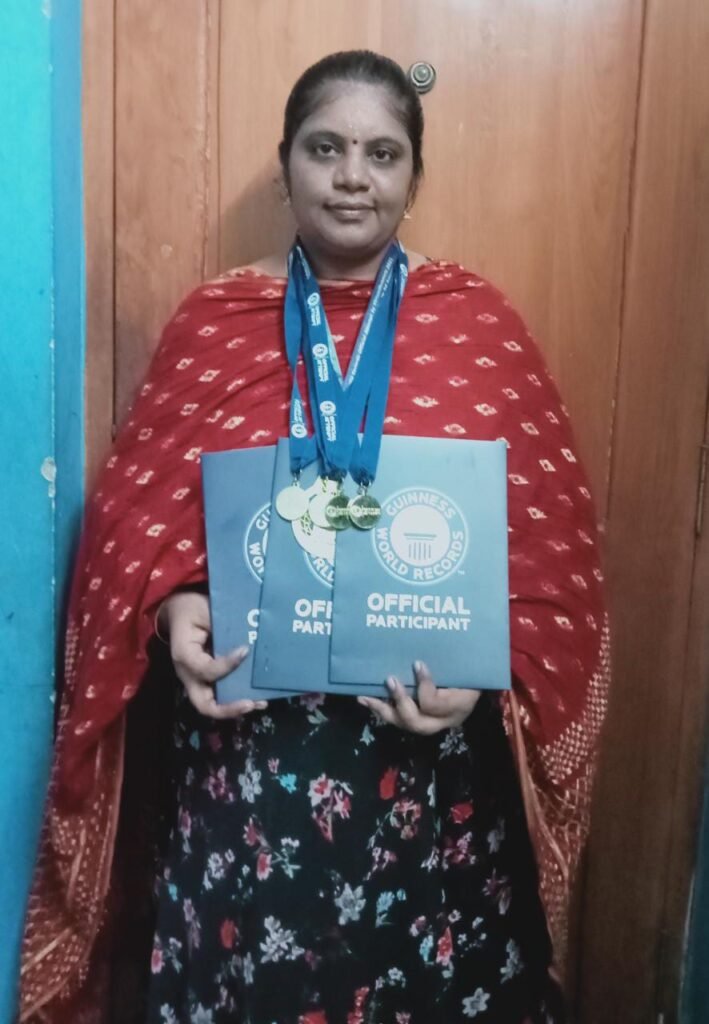 International Impact and Recognition:
P. Nithya's remarkable endeavors have reached far beyond India's borders. Her selfless service and commitment to improving lives have been acknowledged globally. She has received accolades and certificates from countries such as Sri Lanka, Ethiopia, Odisha, and Delhi. Notably, the governments of Sri Lanka and Ethiopia awarded her with the Golden Iconic Award, Best Social Activist Award, Honorary Award, and The Mind Guru Award, respectively.
Inspiring Others and Leaving a Legacy:
P. Nithya firmly believes in the power of women as role models and aims to create a lasting impact. Her achievements have been recognized by India Post, which honored her with a commemorative stamp. Her dedication to empowering others, championing social causes, and her remarkable accomplishments will continue to inspire generations to come.
P. Nithya's extraordinary journey of excellence, social service, and personal achievements exemplifies the strength and determination of an individual committed to making a positive impact in society. Her unwavering dedication to education, her contributions to Tamil literature, and her selfless acts of service have earned her numerous accolades and the admiration of people from various countries. P. Nithya's story is a testament to the fact that with determination, passion, and resilience, one can overcome any obstacle and leave an indelible mark on the world.