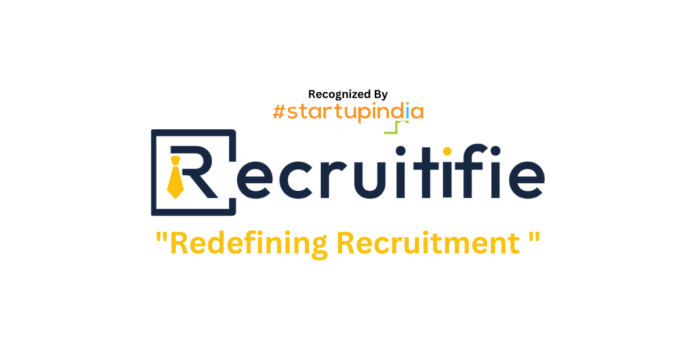 Recruitifie, an innovative end-to-end recruiting platform, is proud to announce its upcoming launch in September 2023. With a comprehensive suite of features, including an Inbuilt ATS, resume builder, career counselling, application tracking, upskilling options, and more, Recruitifie aims to simplify the future recruitment process for job seekers and recruiters, revolutionizing the industry.
Founder and CEO of Recruitifie, Syed Ali Adnan, shared the platform's vision, stating, "We empathize with the challenges that both job seekers and recruiters face during the recruitment process. Our platform is thoughtfully designed to tackle these hurdles and make future hiring more efficient, streamlined, and transparent."
Recruitifie aspires to be the one-stop solution for all Recruiters & Job Seekers. The platform will empower them with valuable data and insights to make informed decisions, ensuring an enriching experience throughout the future hiring journey.
About Recruitifie:
Recruitifie is an all-in-one recruitment platform dedicated to simplifying the hiring process for both job seekers and recruiters. By leveraging an advanced ATS, resume builder, and career counselling services, Recruitifie will redefine recruitment, offering a seamless experience to users.
What Sets Recruitifie Apart:
Recruitifie will stand out as a truly end-to-end recruitment platform, offering the following exciting features at highly competitive pricing, unmatched by any other competitor in the market:
Reasonable Pricing: Recruitifie's competitive pricing will ensure that users receive top-notch services without compromising on quality, delivering the best value for their investment.
Advanced Matching Algorithm: The cutting-edge algorithm will analyze candidate profiles, identifying the most relevant skills for each position. This will empower recruiters to find candidates with the required skill set, even if they lack exact experience as mentioned in the job description.
ATS: The intuitive Applicant Tracking System will simplify application management, centralize candidate profiles, and equip recruiters with valuable data and insights to make informed hiring decisions.
Resume Builder: Job seekers will be able to create ATS-optimized resumes, significantly increasing their chances of being shortlisted for interviews.
Career Counselling: Recruitifie's future career counselling service will empower job seekers to understand the recruitment process better and develop essential career skills, levelling the playing field and enhancing their success in the future recruitment process.
Upskilling: Recruitifie Is Collaborating With Some of the India's Finest Ed-tech Partners to help job seekers upskill themselves at very affordable prices
Join the Revolution:
Recruitifie's powerful platform will streamline the future recruitment process, making it effortless for recruiters and job seekers. By facilitating better decision-making and promoting transparency, Recruitifie is set to revolutionize the future recruitment industry. If you seek a transformative recruitment experience, sign up for updates today and be among the first to experience the revolution!
Signup Here:- https://bit.ly/3OkmgTk
Experience the Future of Hiring with Recruitifie!
Website : https://www.recruitifie.com/