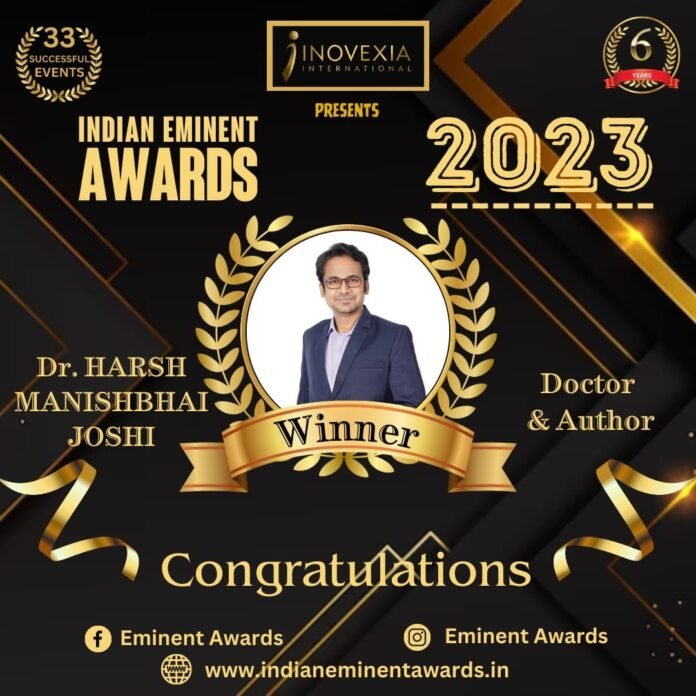 Dr. Harsh Joshi, is nominated & finalised as winner for 34th Indian Eminent Awards held at Goa on 10th July 2023 by Inovexia International.
Dr. Harsh Manishbhai Joshi, a distinguished medical professional, is making significant contributions to the field of medicine. Currently associated with the NHL Municipal Medical College in Ahmedabad, Gujarat, Dr. Joshi has gained recognition as an accomplished author and researcher.
One of his notable achievements is the publication of the book 'Pharmacology Essentials,' which has been widely acclaimed across India. Published by the renowned national publisher, Paras Publication, the book has become an essential reference for students and professionals in the medical field. Furthermore, Dr. Joshi recently revised the internationally recognized book 'Sharma and Sharma's Principles of Pharmacology,' solidifying his expertise and credibility in the field.
Dr. Joshi's expertise has been sought after by numerous national and international conferences, where he has been invited as a chief guest and judge. His vast knowledge and experience make him a valuable asset in such events, where he contributes to the advancement of medical knowledge and research.
Apart from his authorship and participation in conferences, Dr. Joshi has also made significant contributions to scientific research. He has authored more than 20 research papers, further enhancing his reputation as a respected researcher in the medical community.
In recognition of his exceptional contributions, Dr. Joshi has received several prestigious awards. In 2023, he was honored with the Best Researcher award at a conference held in Pondicherry, a testament to his outstanding research work. Additionally, he has been awarded Academic Achievement awards in Pune, showcasing his dedication to both academic and professional excellence.
Beyond his professional achievements, Dr. Joshi exemplifies the qualities of a compassionate and philanthropic individual. He is the founder of the Smit Foundation, a non-governmental organization based in Ahmedabad. The foundation has positively impacted the lives of more than 100 orphaned children, providing them with education, healthcare, and a nurturing environment. Driven by a desire to make a difference, Dr. Joshi has devoted over a decade to this noble cause, bringing hope and happiness to those in need.
Dr. Harsh Manishbhai Joshi's contributions to the medical field, his remarkable research, and his philanthropic endeavors have positioned him as a respected authority in medicine. Through his writings, academic achievements, and selfless work, he continues to inspire others and leave a lasting impact on society.