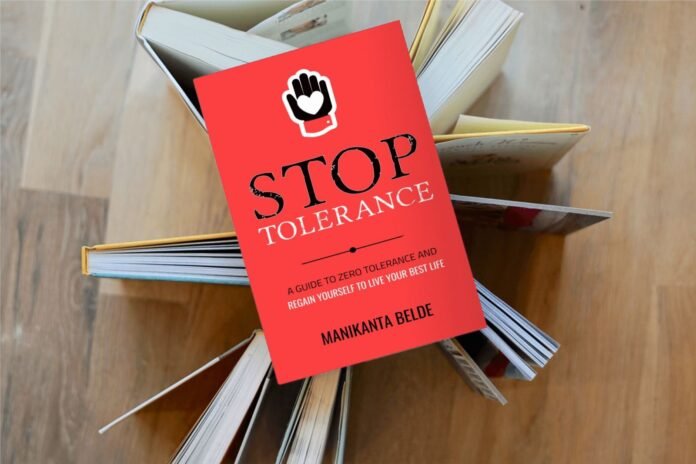 Title: "Stop Tolerance: A Critical Examination"
A review By Sathya Narayan
Rating: ★★★★☆ (4/5)
KEY FACTS
1. TITLE: "STOP TOLERANCE"
2. AUTHOR: MANIKANTA BELDE
3. PUBLISHER: NOTIONPRESS LTD.
CHENNAI 600095.
4. DATE OF PUBLICATION: 2023
5. PRICE: Rs 199/-
6. COPYRIGHT: MB 2023
7. ISBN: 979-8890670403.
8. PROTAGONIST: NEGATIVE TOLERANCE
9. ANTAGONIST: LOSING YOURSELF
10. THEME: SELF HELP
ABOUT THE AUTHOR.
· Manikanta Belde is an Indian non-fiction writer and public speaker.
· As of 2018, she has published seven best-sellers, all addressing entrepreneurship in an attempt to provide encouragement to young people.
· His first book, 'Stop Tolerance', which traces thenegative effects of tolerance, has reached sales of over 50,000, breaking the Indian record for non-fiction works.
HER BOOKS ARE:
· Quotes of Wisdom
· 59 Productivity secrets.
· Small habits/big results
· Awakening Death
· Artificial Love
· The Ultimate Stress Free Productivity Secrets
· The Rhythm Of Life
PLOT AND THEME:
"Stop Tolerance" is a thought-provoking academic work that dives deep into the concept of tolerance in our modern society. Penned by an erudite author, it challenges readers to rethink their stance on tolerance, and does so with scholarly rigor while maintaining a human touch throughout.
The book opens with a poignant anecdote that immediately engages the reader's emotions, setting the tone for a critical examination of the subject. The author, with the skill of a seasoned academic, gradually leads us through the historical evolution of tolerance, tracing its roots from the Enlightenment era to our contemporary world. This historical context is pivotal in understanding how the concept has evolved and what it means in today's context.
One of the standout qualities of "Stop Tolerance" is its ability to seamlessly integrate theory with real-world examples. The author does not rely solely on abstract concepts and philosophical musings but provides concrete instances from different cultural, social, and political contexts. These case studies ground the academic discussion in the everyday experiences of people, making the book accessible to a wider audience.
The book is meticulous in its examination of the limitations of tolerance. It delves into the nuances of tolerance turning into indifference, or worse, a tool for perpetuating injustice. The author argues persuasively that true tolerance should not be passive; instead, it should be accompanied by critical reflection and a commitment to social justice. This point resonates deeply with readers, prompting self-reflection on their own notions of tolerance.
While the academic nature of the book is evident, the prose remains engaging throughout. The author manages to strike a balance between intellectual rigor and accessibility, avoiding the pitfall of becoming overly esoteric. This ensures that the book appeals not only to academics but also to general readers interested in exploring the subject.
One of the book's minor drawbacks is its length. At times, the detailed analysis can feel somewhat overwhelming, and readers may find themselves wishing for more concise summaries. Additionally, the book's arguments are occasionally repetitive, which could have been mitigated through tighter editing.
MY CONCLUSION:
In conclusion, "Stop Tolerance" is a timely and important academic work that urges readers to reevaluate their understanding of tolerance. It successfully bridges the gap between academia and the everyday, making it a valuable resource for both scholars and the general public. While it may require some patience due to its length and occasional repetition, the insights it offers into the complexities of tolerance are worth the effort. This book is an essential read for anyone interested in fostering a more inclusive and just society, and it leaves readers with much to contemplate long after the last page is turned.