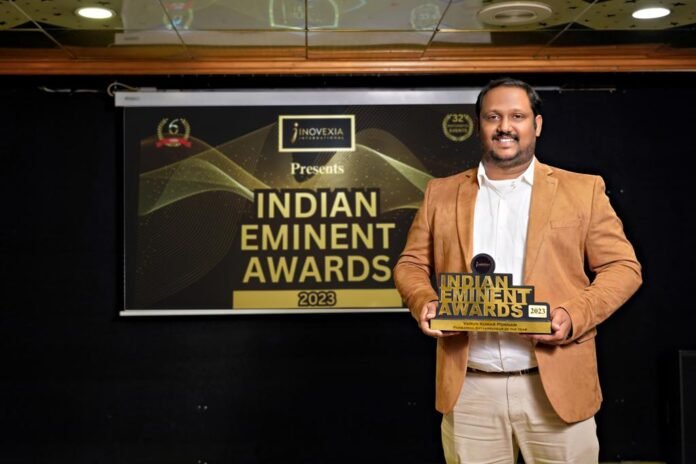 At the heart of Moment Makers Photography is its founder, Varun Kumar Ponnam. Driven by an unwavering desire to revolutionize the photography landscape of the nation, Varun embarked on this extraordinary journey with a mission to provide affordable, high-quality services. A true entrepreneur in every sense, he personally connects with each client, forging relationships that transcend the boundaries of the lens.
Varun's credentials speak volumes about his commitment to excellence. Armed with a specialization in V.F.X Animation from Pixelloid and a BFA degree in Photography as a "Gold Medalist" from Sri Venkateshwara college of Fine Arts (OU), and also he holds his highest degree as
MAJM – "Masters Of Arts In Journalism And Mass Communication" then honed his corporate skills at illustrious establishments like Yell adworks, TCS, and Deloitte, where his design acumen and commitment to quality control were unparalleled. Earning the moniker "Fast and Furious QC Lead" due to his remarkable speed and efficiency, with overall 16 years of Experience Varun utilized his expertise to establish MM Group, with Moment Makers as its crowning jewel, establishing himself as a triumphant entrepreneur. Recognized as the "Pioneering Entrepreneur of the Year" and hailed for his customer-centric business model, Varun's endeavors are driven by his profound belief in the ability of photography to kindle happiness, leading him to create Moment Makers and provide extraordinary end-to-end services.
For Varun, understanding the client's vision and translating it into aesthetically pleasing images is an art form. To him, each photograph encompasses not just the captured moment but also the accompanying emotion, narrative, and enduring memory. It is his unwavering commitment to delivering exceptional value without compromising on quality that has solidified Moment Makers as the premier choice for couples seeking to immortalize their wedding day and clients yearning to preserve the essence of their special events.
In an unrelenting pursuit to serve their clients better, Moment Makers Photography has achieved a monumental milestone. As the parent company, Moment Makers now oversees four new ventures, each catering to life's most cherished celebrations: Mr. & Mrs. Studio, a realm of premium sets for pre/post-wedding and model shoots; Munchkin Moments, an enchanting, theme-based studio designed exclusively for children; Mom & Munchkins, an extraordinary photography service dedicated to capturing the magical bond between mothers and their little ones; and Moonlight Mannequins, an exquisite designer and fashion boutique. This expansion exemplifies Varun's steadfast commitment to redefine the limits of professional photography, making it accessible to all who seek to embrace the magic of cherished moments.
Varun's unyielding dedication to impeccable service, combined with his profound passion for photography, has positioned Moment Makers as the ultimate treasure trove for clients eager to encapsulate their most precious moments within timeless frames.
ABOUT MOMENT MAKERS:
Moment Makers Photography was founded by Varun Kumar Ponnam on January 1st 2016. It was conceptualized to turn every moment of yours into a memory. A beacon of creativity, innovation, and excellence, this creative firm is renowned for its diverse range of services, from weddings to event management. Every picture they deliver tells a story, and every story encapsulates an emotion – a testament to their ability to transform mere images into powerful narratives in cinematic and artistic frames.
Situated in the heart of Hyderabad, Moment Makers Photography is fitted with state-of-the-art equipment, ensuring premium quality images. Furthermore, the team of professional photographers and cinematographers, each possessing a unique artistic flair, is known for their meticulous attention to detail. They are masters of light and composition, working in perfect harmony to create images that resonate with your emotions and etch those fleeting true candid moments into timeless memories.
But what truly sets Moment Makers apart is their unrivalled customer service. They invest time in understanding the individual needs of each client, reflecting the nuances of their personality, and the essence of the event in every shot. Their value-for-money packages are meticulously crafted, ensuring that everyone can afford the luxury of professional photography without compromising on quality.