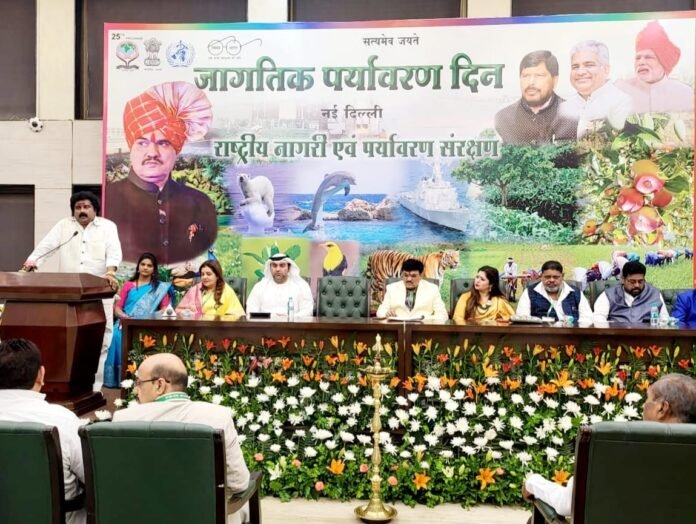 The Constitution Club in New Delhi buzzed with anticipation as Dr. Rajeev Menon, a distinguished environmentalist and National Secretary of the Republic Party of India, Athawale (RPI Athawale), took center stage to address a prestigious gathering. The occasion marked the celebration of World Environment Day and provided an ideal platform for Dr. Rajeev Menon to shed light on critical environmental issues and unveil the visionary schemes initiated by the Modi government for sustainable development.
The event was graced by esteemed guests and dignitaries, including Shri Ramdas Athawale, Union Minister of Social Justice, and Empowerment who served as the Chief Guest. Honorable Shri Aswini Kumar Choube, Union Minister of Environment, added further eminence as a guest of honor. The presence of distinguished individuals such as Shri Vijayraj Dhamal, President, National Civil Environment Protection and organizer of the event ; Smt. Nuzarath Jahan, National Vice President of RPI Athawale; Shri Ravi Pandit, Chairman, Sustainable Initative for Climate Augmentation, from Dubai; Shri Rajeev Joseph, Chairman Indian Global Association and esteemed Marathi actress, Smt. Deepali Sayed, further enhanced the event's significance.
Dr. Rajeev Menon, widely recognized for his expertise in environmental conservation and sustainable development, delivered a captivating speech that resonated with the audience right from the moment he stepped onto the stage. His eloquence and passionate advocacy for environmental causes captured the attention and hearts of every attendee, emphasizing the urgent need for collective action to address the pressing environmental challenges faced by our nation.
As part of his address, Dr.Rajeev Menon commended the Modi government's steadfast commitment to environmental preservation and introduced a series of ambitious schemes aimed at propelling India towards a greener and more sustainable future. These initiatives, meticulously designed to promote renewable energy adoption, biodiversity conservation, waste management, and climate change mitigation, garnered widespread applause and appreciation from the audience.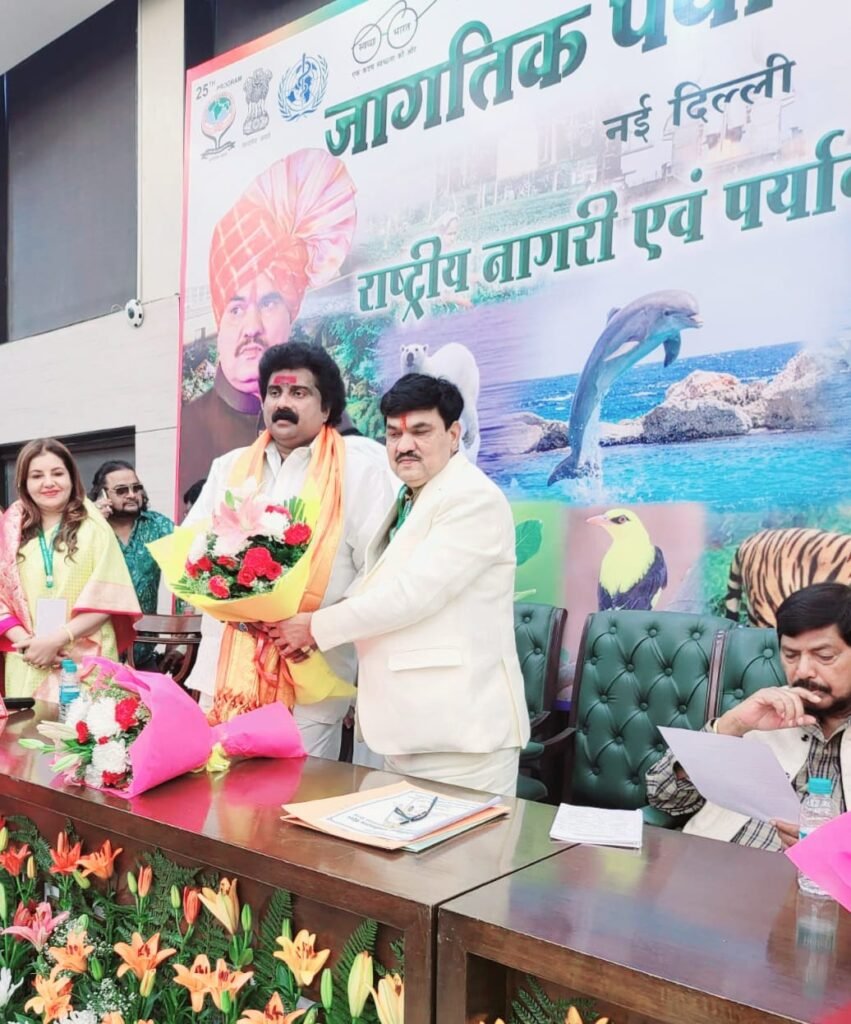 "In our current juncture as a nation, the imperative to protect our environment cannot be overstated. I commend the Modi government for its unwavering dedication to sustainable development and its introduction of these progressive schemes, which will serve as catalysts for positive change," expressed Dr.Rajeev Menon.
The event not only underscored the significance of environmental preservation but also served as a call to action for individuals, communities, and organizations to actively engage in the government's initiatives. Dr. Rajeev Menon passionately urged the audience to embrace sustainable practices in their daily lives and become ambassadors of change within their spheres of influence.
Dr. Rajeev Menon, with his deep-rooted commitment to environmental conservation, assumes a pivotal role as the National Secretary of RPI Athawale, working towards the party's mission to promote social justice and sustainable development. His presence at the World Environment Day celebrations held at the Constitution Club exemplified the party's unwavering support for environmental responsibility and emphasized the collective efforts required to safeguard our planet for future generations.