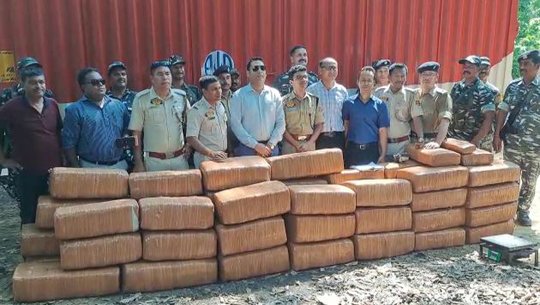 Ambassa police made a significant drug bust on Tuesday when they seized a container vehicle carrying a substantial quantity of dried cannabis. The incident unfolded in the Kathalbari area of the Assam-Agartala National Highway, where the container vehicle with the registration number HR-38Y-2025 had been parked since morning. Alert police personnel on patrol noticed the suspicious vehicle and promptly informed the Ambassa police station.
Responding swiftly, the officers from Ambassa Police Station, led by the Sub Divisional Police Officer, rushed to the location. Upon inspecting the vehicle, the police discovered a concealed compartment. To gain access, they utilized a cutting machine to open the secret chamber, revealing a large quantity of dried cannabis hidden inside.
Dhalai District Superintendent of Police, Avinash Rai, was immediately informed about the incident and quickly arrived at the scene. He confirmed that the police had uncovered a staggering 897 kilograms of ganja, meticulously packaged in 54 packets. The estimated market value of the seized cannabis amounts to approximately Rs 2 crore.
Superintendent Rai emphasized the commitment to eradicating the drug menace from Tripura and announced the launch of a special campaign towards making the state drug-free. As part of this ongoing initiative, daily anti-drug operations are being conducted. While the police successfully recovered the vehicle and the illicit cannabis today, no arrests were made in connection with the case.
The seizure marks a significant victory for law enforcement in their efforts to combat drug trafficking and protect the citizens of Tripura. Authorities remain steadfast in their commitment to curbing the drug trade and ensuring the safety and well-being of the community.