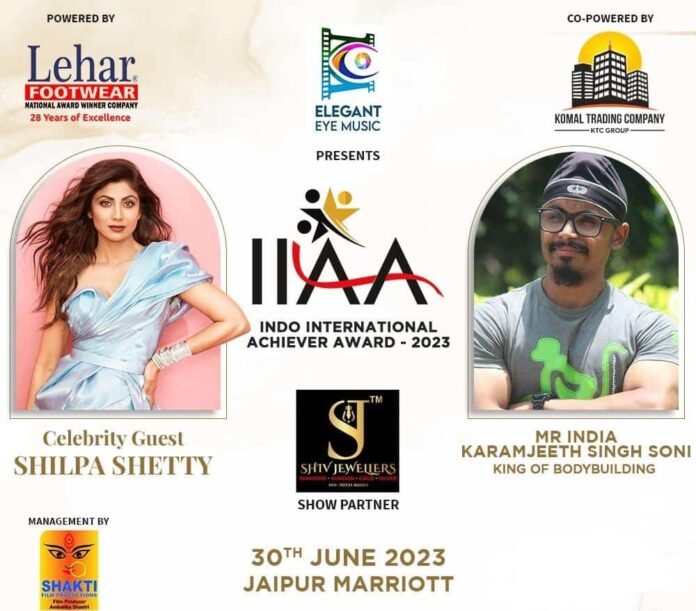 Excitement is brewing in the entertainment world as the King of Bodybuilding, Karmjeeth Singh Soni, gears up to share the stage with the Queen of Bollywood, Shilpa Shetty. This unexpected collaboration has sent fans into a frenzy, eagerly anticipating a memorable performance from these two icons.
In a recent Zoom interview, when asked about his future plans, Karmjeeth Singh Soni made a surprising announcement that caught everyone's attention. He revealed, "I'll also be buying land on the moon next month." This statement has sparked intrigue and curiosity, leaving fans wondering about the bodybuilder's next venture beyond his impressive feats in the world of fitness.
The event that will witness this unique pairing is none other than the Indo International Achiever Award 2023 (IIAA). Presented by Elegant Eye Music, this prestigious event is scheduled to take place on the 30th of June at the luxurious Marriott hotel in Jaipur.
The IIAA aims to honor exceptional achievers across various fields, recognizing their outstanding contributions and inspiring stories. With Karmjeeth Singh Soni and Shilpa Shetty gracing the stage together, the event promises to be an unforgettable evening, blending the worlds of fitness and Bollywood in a spectacular display of talent and glamour.
Fans are eagerly awaiting this dynamic duo's performance, envisioning a fusion of strength, grace, and entertainment that transcends boundaries. The coming together of Karmjeeth Singh Soni, a symbol of dedication and physical prowess, with Shilpa Shetty, an epitome of beauty and talent, is undoubtedly a rare treat for enthusiasts of both domains.
As the countdown begins for the Indo International Achiever Award 2023, anticipation mounts, and the excitement continues to build. This event is expected to be a grand celebration of achievements, with Karmjeeth Singh Soni and Shilpa Shetty shining as the stars of the evening, captivating audiences with their extraordinary talents.
Mark your calendars for this momentous occasion, where the worlds of bodybuilding and Bollywood collide in a dazzling display of talent, grace, and inspiration. The Indo International Achiever Award 2023 is poised to be a night to remember, leaving an indelible mark on the hearts and minds of all those fortunate enough to witness this extraordinary event.