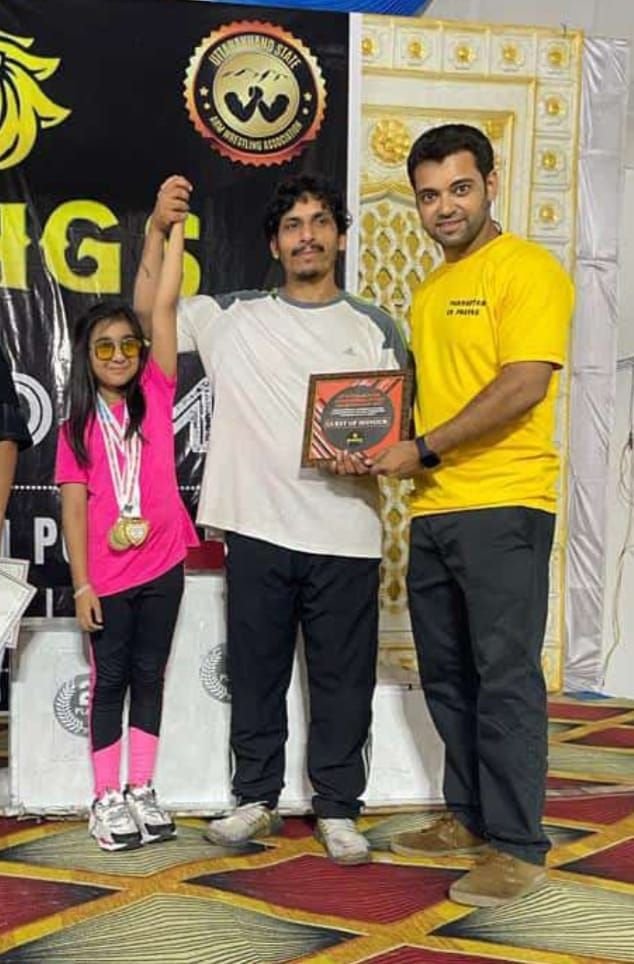 Jasmine Singh a 9-year-old resident of Dehradun, Student of "The Poly Kids" in 4th Standard is becoming a rising star in the powerlifting world. At the young age of 9, where children like to play with toys, jasmine is winning medal after medal in powerlifting. She got the title of 1st Youngest Girl from Uttarakhand in Powerlifting.
In the 23rd Uttarakhand State Powerlifting Championship held on September 2nd & 3rd ,2023; Jasmine has brought laurels to the state by winning the Gold Medal. Jasmine, playing in the sub-junior category, won the first position in bench-press by lifting 25 Kg. First Position and new record has been created by lifting 50 Kg weight in deadlift. Won First position in squat by Lifting 40 Kg.
Two times State Powerlifting Champion and one-time North India Powerlifting Champion and secured 1st position in all Championship.
She is preparing for National and International games. Her goal is to represent India on global level in the Powerlifting world. She is inspired by her father Mr. Yashwant Kumar Singh a National Gold Medalist in powerlifting & Strongman Gold Medalist who is also the trainer of Jasmine. He is providing all necessary equipment and training for her further tournaments. Apart from sports she is also good in academics & Drawing.
Jasmine is the first girl to secure a sponsorship for upcoming tournaments from "Natriana Manufacturing LLP" under an Initiative started by Mr. Ayush Gupta Founder & CEO of Natriana. He also gave the appreciation award for her achievements at such a young age.
She is the inspiration for many aspiring athletes from Uttarakhand state. We expect you to grow more and achieve success in your future.
Links:
https://youtube.com/@fitjasmineuk07?si=eY869pIX1Z4aM85_
https://instagram.com/fitjasmine_uk07?utm_source=qr&igshid=MzNlNGNkZWQ4Mg%3D%3D