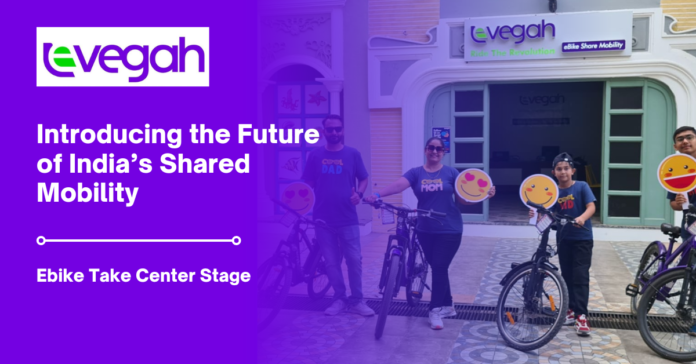 eVegah Revolutionizing Urban Transportation and Commuting
In recent years, urban mobility has witnessed a significant shift towards sustainable and efficient transportation options. Embracing this trend, a groundbreaking startup eVegah has emerged, revolutionizing the way we commute and experience corporate Campus, City amusement parks.
Share Mobility Smart Ebike, the brainchild of visionary entrepreneurs Mr Krunal A Valand (Cofounder) and Mr Ketan P Prajapati (Co-founder), has introduced a game-changing solution that combines convenience, environmental consciousness, and fun.

eVegah aims to bridge the gap between campuses, amusement parks and surrounding city centres, enhancing accessibility while reducing the carbon footprint. eVegah is registered Startup under DPIIT (Department for Promotion of Industry and Internal Trade) under startup
India program. As Evegah Mobility Pvt Ltd by the Mr Krunal A Valand (Co-founder) and Mr Ketan P Prajapati (Co-founder) in 2021. The company began operations in Vadodara Gujarat, India.

eVegah is a technology driven mobility platform, micro-mobility platform offers electric mobilityas-a-service vehicles, connect to users through an application, enabling first and last-mile seamless and sustainable connectivity. The technology-driven platform uses IOT (Internet of Things) developed by eVegah, cloud, Machine learning, and artificial intelligence for demandsupply management and efficient operations.

The user installs the eVegah app from the Play Store or the App store and creates an account, followed by addition of money to the eVegah Money account using Google Pay, Paytm, PhonePe, BHIM UPI, credit card or debit card.

The eVegah app tracks and displays, via GPS, the vehicles available nearby or at any eVegah Zones around. Users can search for their destination/location and see the estimated time to reach the designated eVegah zone. The user scans the QR code given on the vehicle to begin the trip. To end the trip, the user parks their eVegah at a zone nearest to their destination, upon which, the cost of the trip is immediately deducted from the user's eVegah Money wallet. The eVegah platform works on a pay-per-use model. the eVegah seeks to eliminate the need for private vehicles and minimize congestion, ultimately creating more efficient and sustainable urban spaces.

They eVegah FLY Ebike was unveil by Mr Krunal A Valand (Co-founder) and Mr Ketan P Prajapati (Co-founder) AATAPI Wonderland, Gujarat's Largest Theme Park is spread across 70 acres at Vadodara, Aatapi Wonderland have long been synonymous with excitement and adventure, but the challenge of traversing large park grounds efficiently has often left visitors feeling drained. eVegah E-Bike addresses this concern by introducing electric bikes specifically designed for amusement park use, these e-bikes effortlessly navigate through park terrain, enabling visitors to cover more ground and experience more attractions in less time.
In June 2023, eVegah started its operation in Sigma University campus, Vadodara city Gujarat, Campuses, with their sprawling landscapes and bustling student populations, have become ideal testing grounds for Share Mobility Ebike. These electric bikes offer an accessible and environmentally friendly mode of transportation for students, faculty, and staff.

City dwellers also stand to benefit greatly from this innovative transportation solution. As Indian city urban areas continue to grapple with traffic congestion and air pollution, the integration of Share Mobility Ebike presents a compelling alternative. With their zero-emission electric motors, these Ebike contribute to cleaner air and a reduced carbon footprint. Furthermore, their ease of use and ability to navigate crowded streets and narrow alleyways make them an ideal choice for short-distance commutes, complementing existing public transportation networks.

As per Mr Krunal A Valand (Co-founder) and Mr Ketan P Prajapati (Co-founder) s ,One of the primary goals of eVegah is to create a more sustainable and greener future. By promoting electric mobility throughout PAN India, the start-up aims to reduce reliance on fossil fuels, minimize air pollution, and contribute to the fight against climate change. These shared e-bikes offer a practical and scalable solution which is Made for Indian cities. the startup has tapped into a market hungry for innovative mobility solutions. As more corporate campuses, amusement parks, and cities embrace this trend, we can expect to witness a significant shift towards a greener and more accessible future.

eVegah Share Mobility Ebike is poised to reshape the way we move and explore our surroundings.

Evegah Website: https://evegah.com/
Evegah on INSTAGRAM: https://www.instagram.com/evegahride/