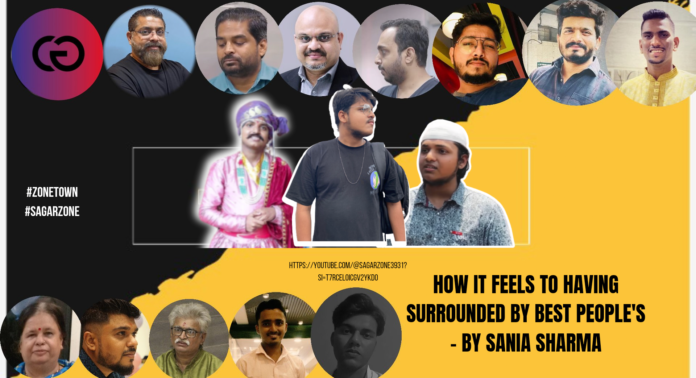 People always think that growth is depend on only on me myself but in sagar's opinion growth depend on which people's we have in our life because people are most important thing for growth SAGAR ZONE always got the best people around himself who giving him so much of learning and earning ideas , in vfx industry the industry where so much of struggle for freshers.
IN CINEGENCE- he got the CEO – STEPHEN MASCARENHAS who treats him like a college friend , he got best seniors of the industries, cinegence a company gives chance to the freshers and deaf people also he's ceo's mind is like a Steve job he always wear a outfit like him he's like a head commander of all things , sagar observed that he's studio is on third floor and 1st floor they have canteen, in he's studio they have the cafetaria but he observed that he's ceo he comes on 1st floor a small canteen with 3/4 employees he comes he sits and he jam on that canteen then sagar got the motivation that how he's living his life it's like lifestyle thing , he is humble guy he always ready to help people Then comes MR.SWAPNIL SHELAR he's a supervisor who handles 150+ employees works
Sagar's work as a vfx artist is in- JAWAN,TU JOOTHI MAIN MAKKAAR,SCOOP, GUNS & GULABGUNJ ,,,
Sagar Zone-JUST WANNA SAY THANK YOU TO ALL OF he's SENIORS STEPHEN SIR, SWAPNIL SIR,NIXON FERNANDO (VICE PRESIDENT OF COMPANY),
LENDl DE SOUZA ,
RAHUL PAKHALE,SHANKAR ANJANWAD,BABAJI KADAM EVERYONE OF A COMPANY. They all are the proof of he's streak of he got everytime a best people….
IN ACTING FIELD –
in 2020/21 lockdown sagar zone did a work of sales man in train in short he's a guy who sales earphones in the trains he's consumer told him that time hey sagar try a luck in film industry and sagar always wanna be like a SRK so he tried then 1st he got the work in 2022 Saurajya saudamini tara rani serial of sony marathi then he got the work in tuzech mi geet me gaat ahe serial of star pravah then he got the work in aboli a serial of star pravah then he got the work in kashibai bajirao ballal a Hindi serial of zee tv…
after that all things he directed a shortfilm-akashwani, a switch,maqsad, on YouTube with a help of he's family shailesh badheka,rekha badheka, mayank badheka,dhaval badheka,anuj bhagane, Narayan pahuja they all are family members of sagar zone
People always asks sagar why you left a serial industry as an actor, answer of sagar is always a same currently he wanna explore things IN VFX
SAGAR ZONE- THE BEST STORY IS A COMEBACK STORY
I asked him which quote inspires him alot
he said-
From bhagwat geeta-
He, Who Knows Everything.
Ragnar :
Power is always dangerous. It attracts the worst. And corrupts the best. I never asked for power
COVERD BY- SANIA SHARMA