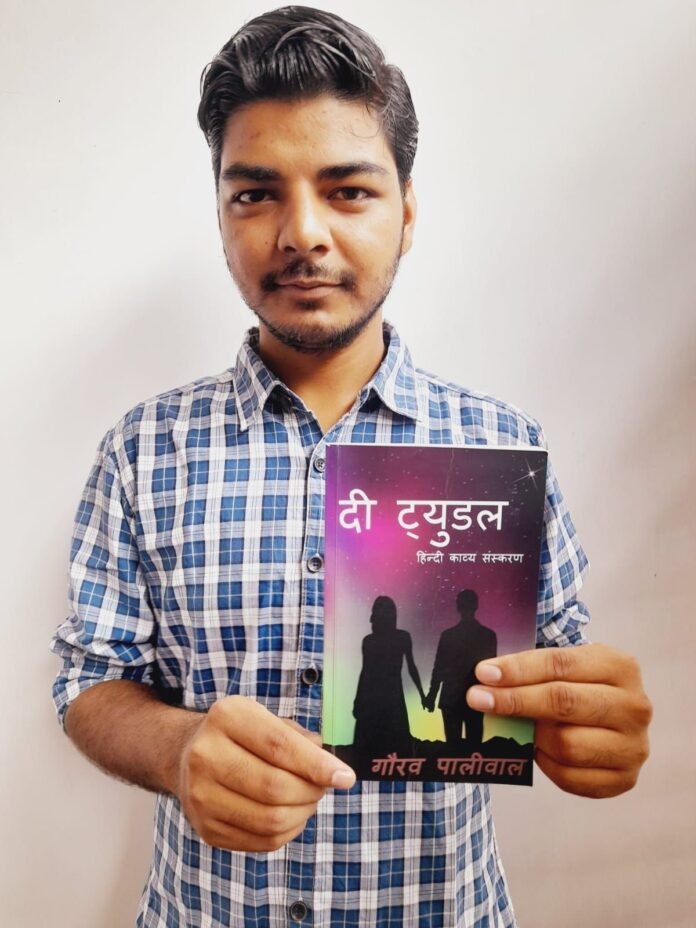 Gourav Paliwal is a multi-talented individual who has made significant contributions as a writer and entrepreneur. With a passion for literature and law, Gourav has successfully established Lawfocity Exclusive Private Limited, a startup that focuses on providing education, media, and legal services. This article explores Gourav's accomplishments as a writer and sheds light on the vision behind his brand.
The Writer Extraordinaire:
Gourav Paliwal's literary prowess shines through his published works, which cater to a diverse range of topics. He has authored three books that are available on popular platforms like Amazon and Flipkart. The titles of his books are "The Isthelitic Thoughts" which delves into women empowerment, "The Tyudle" which is a collection of his Hindi poetry, and "One-sided Flirtinship" featuring his English poetries. These books reflect Gourav's ability to engage readers with his insightful thoughts, captivating verses, and relevant social themes.
Gourav's upcoming fourth book, "Why being so problematic," focuses on the challenges faced by today's youth. By addressing pertinent issues, he aims to inspire and guide the younger generation through relatable content. His writings are marked by a deep understanding of human emotions and societal dynamics, making them a source of inspiration for many.
Lawfocity Exclusive Private Limited: The Brand Vision:
Alongside his literary accomplishments, Gourav Paliwal is also the visionary behind Lawfocity Exclusive Private Limited. This startup is registered under the MSME and operates in the domains of education, media, and legal services.
Education: Lawfocity aims to educate aspiring law students and equip them with the necessary skills to excel in the judiciary. By providing comprehensive courses and training, Gourav's team ensures that students are prepared to navigate the intricacies of the legal profession confidently.
Media: The brand also emphasizes the significance of legal updates, news, and court cases. Through its media segment, Lawfocity keeps legal practitioners, students, and enthusiasts well-informed about the latest developments in the legal arena. By disseminating accurate and up-to-date information, the brand aims to bridge the gap between legal professionals and the general public.
Legal Services: As Lawfocity continues to grow, it plans to expand its offerings to include legal services. By providing expert guidance and support, Gourav envisions his startup becoming a reliable resource for individuals and businesses seeking legal assistance. This extension will enable Lawfocity to cater to a wider range of clients and establish a strong presence in the legal industry.
Gourav Paliwal's accomplishments as a writer and entrepreneur demonstrate his commitment to literature, law, and social progress. Through his thought-provoking books, he addresses important issues such as women's empowerment, youth challenges, and artistic expression. His startup, Lawfocity Exclusive Private Limited, showcases his vision to educate aspiring law students, provide legal updates, and offer legal services to individuals and businesses.
Gourav's passion for education, media, and legal services aligns perfectly with his desire to make a positive impact in these fields. As he continues to pursue his literary endeavors and expand his startup, it is clear that Gourav Paliwal is dedicated to empowering others through knowledge and providing valuable solutions in the legal realm.
Email – gouravpaliwal970@gmail.com
YouTube channel
https://youtube.com/@lawfocityeducators
Lawfocity Instagram
https://www.instagram.com/lawfocityofficials
Paliwal Quotes