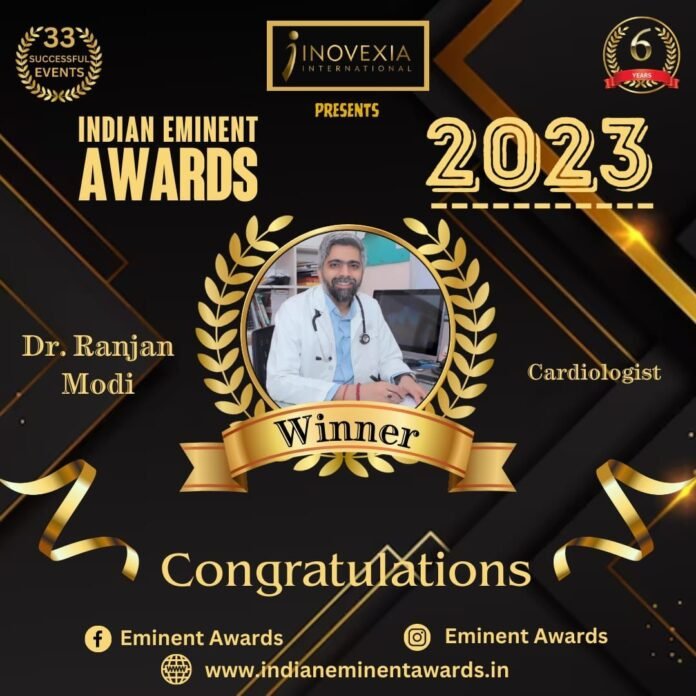 Dr. Ranjan Modi, is nominated & finalised as winner for 34th Indian Eminent Awards held at Goa on 10th July 2023 by Inovexia International
Dr. Ranjan Modi (MD, DM, FESC, FAPSIC) is a highly skilled interventional cardiologist based in New Delhi and the National Capital Region (NCR). With expertise in various cardiac interventions, including coronary, carotid, peripheral, and structural procedures such as TAVR/TAVI and TMVR, as well as intravascular imaging and device implantation, Dr. Modi has established himself as a leading figure in his field.
His journey towards excellence began with his cardiology training at JN Medical College, Belgaum, Karnataka, where he emerged as a Gold Medalist. After completing his training, he honed his skills at prestigious institutions such as Fortis Escorts Heart Institute and Indraprastha Apollo Hospital, both located in New Delhi. Notably, his outstanding performance earned him the coveted Best Junior Doctor award at Fortis Escorts Heart Institute.
Dr. Modi's commitment to advancing cardiovascular medicine is evident through his active participation in national and international cardiology conferences. His presentations have consistently received recognition, earning him awards for both poster and platform sessions. Additionally, his contributions to the medical community extend beyond conferences, as he has published over 40 articles in internationally and nationally indexed peer-reviewed journals, along with contributing to five chapters in cardiology books.
Recognizing his exceptional achievements, Dr. Modi has been honored with multiple accolades. In 2019, he was named the "Young Medical Achiever of the Year" by the Indian Health Professional Awards. In 2022, the Researchers Guild presented him with the "Young Researcher Award," acknowledging his significant contributions to the field. Furthermore, the Nationwide Healthcare Awards by Business Mint recognized him as the "Most Promising Cardiologist of the Year" in 2022.
Beyond his medical expertise, Dr. Modi is a multifaceted individual. He actively imparts knowledge and shares his expertise by delivering lectures and organizing Continuing Medical Education (CME) sessions for fellow doctors. Moreover, he exemplifies the spirit of entrepreneurship and philanthropy. As the co-founder of Superscrubs, a medical apparels company, he combines his medical knowledge with business acumen. Furthermore, his charitable NGO, "Save the Heart Foundation," conducts free cardiology check-ups and camps for underprivileged individuals, embodying his commitment to improving healthcare accessibility.
Dr. Modi's contributions extend beyond clinical practice and academia. He has been involved in various international clinical trials, contributing to the advancement of evidence-based medicine. Furthermore, his expertise has been sought after by esteemed cardiology journals, where he serves as a reviewer, ensuring the highest standards of research.
Dr. Ranjan Modi's journey as an interventional cardiologist reflects excellence, compassion, and a drive to make a positive impact. His expertise in cardiac interventions, research contributions, entrepreneurial endeavors, and philanthropic initiatives make him a true pioneer in the field of cardiology. Through his continued efforts, Dr. Modi not only saves lives but also inspires future generations of medical professionals to strive for greatness.