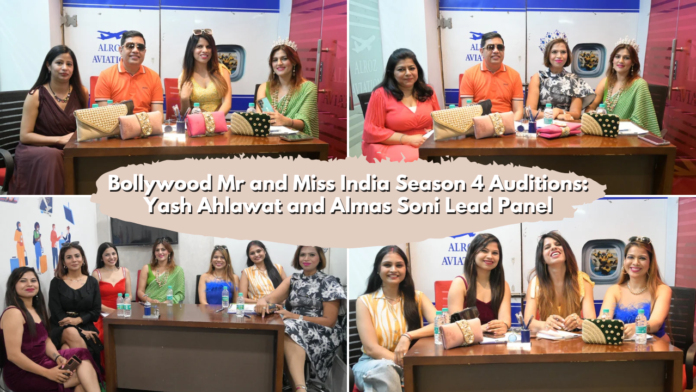 The auditions for the highly anticipated fourth season of "Bollywood Mr and Miss India" witnessed a remarkable turnout of young participants from across the country. The auditions, held at Alroz Aviation, Lajpat Nagar, were organized by Studio 19 Films, founded by the multi-talented Yash Ahlawat, a director, producer, and film finance expert. The show's associate partner, Almas Soni, a distinguished educationist, was also present during the auditions.
Distinguished personalities from various fields, including influencers, fashionistas, and models, graced the occasion. The esteemed jury panel featured luminaries like Mrs. Shweta Singh (Mrs. India), Mrs. Rajni Yadav (Renowned for "Jhumke" and "Dil Bechara" Music Album), Miss Muskaan Jahan (Influencer and Actor), Mrs. Deepti Titoria (Ms. India Globe and Super Model), Dr. Kalpna Rawat (Mrs. UP Pride), Miss Simran Virak (Anchor and Actor), Mrs. Anjali Arora (Mrs. India International), Mrs. Sonia Sangwan (Mrs. India World), Miss Mariyam (Model and Influencer), and Mrs. Dr. Jyotsna Behl (Happiness Coach). This illustrious panel acknowledged the participants' enthusiasm and selected several individuals to proceed further in the competition, while also providing invaluable guidance for the fashion industry.
The auditions were filled with enjoyment and excitement as participants showcased their talents and passion. A conversation with Yash Ahlawat and Almas Soni revealed that the grand show is scheduled to take place from September 26 to October 1, 2023, at the prestigious Crowne Plaza, a 5-star hotel located in Delhi. The event is expected to attract celebrities, top models, renowned designers, influencers, prominent business tycoons, and esteemed educationists from around the country.
As the event draws closer, auditions for this fashion extravaganza are still ongoing. Aspiring candidates can gather more information from Studio 19 Films' website and the Bollywood Mr and Miss India page on Instagram. Don't miss the chance to be a part of this dazzling showcase of talent and style!
Link : www.delhifashionshow.in