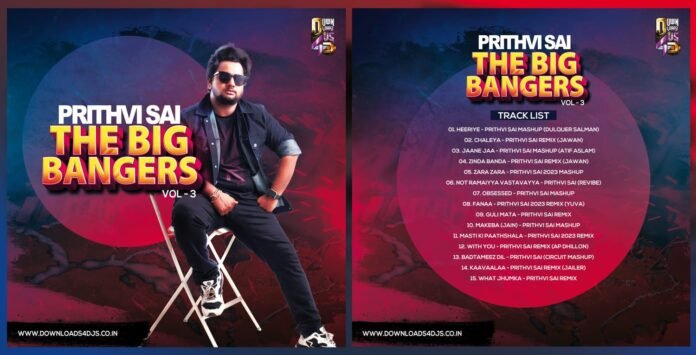 Bhubaneshwar, India – October 8, 2023 : Bhubaneshwar's nightlife is about to reach new heights as DJ Prithvi Sai, a name synonymous with electrifying Bollywood & EDM performance, is all set to make his debut in the city. The event, which promises to be an unforgettable night of music and entertainment, is scheduled to take place at One Peg Down Club on October 15th, 2023.
DJ Prithvi Sai has just released his new anticipated album "The Big Bangers – Vol-3" is a testament to DJ Prithvi Sai's unrivaled creativity and passion for pushing the boundaries of Music. This album is a sonic journey, featuring 15 tracks that encompass a wide spectrum of emotions and musical influences. Each remix and mashup is a meticulously crafted masterpiece, designed to transport listeners to a realm of euphoria and energy. From the moment the first track "Heeriye" starts, listeners are immersed in a world of high-energy beats and unforgettable melodies like "Chaleya", "Jaane Ja", "Fanaa". DJ Prithvi Sai's latest album not only lives up to its predecessors but also elevates the standards with meticulously crafted remixes like "Not Ramaiyya Vastavayya", "Zinda Banda", etc.
About DJ Prithvi Sai:
DJ Prithvi Sai is a dynamic artist known for his extraordinary talent in curating music that transcends boundaries. His performances are a captivating journey through a myriad of musical landscapes, promising a thrilling experience for attendees. With a discography featuring hits that have dominated charts and dance floors worldwide, DJ Prithvi Sai's presence in Bhubaneshwar is an event that music lovers cannot afford to miss.
The Debut Performance in Bhubaneshwar:
The debut performance at One Peg Down Club on October 15th promises to be a night filled with high-energy beats, stunning visuals, and an atmosphere charged with excitement. DJ Prithvi Sai's first appearance in Bhubaneshwar is expected to draw a diverse crowd, from Bollywood & EDM aficionados to those simply looking to enjoy a night of electrifying music.
The event at One Peg Down Club will showcase DJ Prithvi Sai's ability to create a magical connection with the audience, taking them on an unforgettable sonic journey. Attendees can expect an immersive experience that will leave them with memories to cherish.
Event Details:
Date: October 15, 2023
Venue: One Peg Down Club, Bhubaneshwar
Time: Doors open at 8:00 PM
Instagram: @djprithvisai Facebook: DJ Prithvi Sai Official Twitter: @djprithvisai