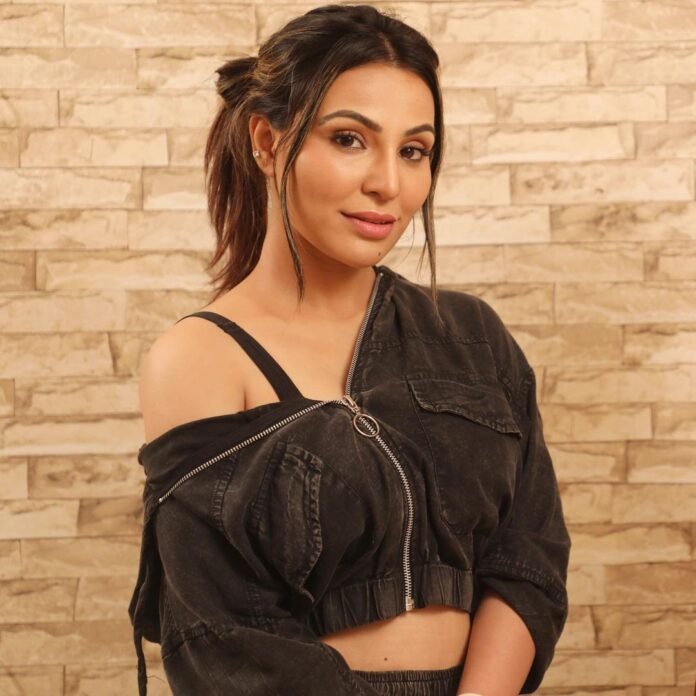 The anticipation in the Indian entertainment scene reaches a fever pitch with an exciting new film on the horizon. Starring the exceptionally talented Sania Khan alongside the legendary Govind Arun Ahuja, popularly known as Govinda, this movie is helmed by the skilled director Satinder Raj. Produced under the prestigious banner of Charvi Films, the release date for this promising cinematic venture is eagerly awaited and is set to hit the screens very soon.
In what promises to be a remarkable cinematic experience, audiences are eagerly looking forward to seeing Sania Khan and Govinda share the screen. The film is under the expert direction of Satinder Raj, a name synonymous with quality filmmaking. The production is in the able hands of Charvi Films, ensuring a captivating and well-crafted movie. As the release date draws near, excitement and expectations are soaring, making this collaboration a much-anticipated affair for fans and the industry alike.
Stay tuned as Sania Khan, Govinda, and director Satinder Raj gear up to present an unforgettable movie experience that is bound to leave a lasting impression on audiences. The release date announcement is eagerly awaited, and fans are counting down the days until they can witness this stellar performance on the big screen.
Sania Khan, recognized by her stage name "Sania," is rapidly gaining prominence for her exceptional talent and stunning beauty in the Indian entertainment industry. Born on March 1, 1999, in the enchanting city of Guwahati, Assam, Sania has become a prominent figure in both the modeling and acting spheres.
Her journey in the world of entertainment began in 2012, and since then, her star has been on a meteoric rise. Sania is an alumna of the International School in Guwahati, where her passion for the performing arts first began. Continuing her pursuit of excellence, she furthered her education at Gauhati Commerce College and a prestigious business school in Guwahati, Assam, where she obtained a Bachelor of Commerce degree. Her commitment to both education and her artistic endeavors reflects her determination to excel in all aspects of life.
What sets Sania apart is her versatility. She has carved a niche for herself as both a successful model and a talented actress. Her striking features and poised demeanor have made her a sought-after model, gracing the covers of magazines and featuring in prominent fashion shows. Simultaneously, her ability to portray emotions and breathe life into her characters has earned her critical acclaim in the world of acting.
Despite her young age, Sania has achieved several milestones in her career. Her portfolio boasts collaborations with renowned fashion brands and publications, testament to her stature in the modeling industry. In the realm of acting, she has garnered praise for her performances in television and film.
Sania Khan, also known as "Sania only," is a proud Indian with roots in Assam. Standing at a height of 163 cm and weighing 50 kg, her figure measures 34–26–34, making her a quintessential fashion icon. With dark brown eyes and lustrous black hair, she exudes elegance and charm.
Beyond her professional accomplishments, Sania is a woman of diverse interests. She enjoys sports such as badminton and cricket, possesses a passion for dance and music, and is an adept swimmer. She's also known to have a penchant for taking selfies, indulging in shopping, and hitting the open road behind the wheel.
Sania Khan's favorites are a window into her tastes and preferences. She relishes dishes like Hakka Noodles, Mutton Biryani, and ice cream from Naturals. Her favorite films include "Hum Saath Saath Hain," "Hera Pheri," and Hollywood's action-packed "Salt." Among actors, she admires Salman Khan, Shahrukh Khan, Hrithik Roshan, and Akshay Kumar, while her favorite actresses include Pooja Bhatt, Rani Mukherjee, and the iconic Angelina Jolie. Her preferred colors are black and white, and she enjoys shopping at places like Infiniti Mall. For travel, she has a soft spot for London and Brazil, and her go-to brands include Zara and H&M.
For business inquiries or to connect with Sania Khan, you can reach her via email at misssania07@gmail.com.
Sania Khan's journey in the world of entertainment is nothing short of inspiring. With her talent, dedication, and charismatic presence, she continues to be a rising star in the Indian entertainment industry, captivating audiences with her performances and leaving an indelible mark on the world of fashion. As an actress and model, she is set to achieve even greater heights in the years to come. And with her upcoming film alongside Govinda under the Charvi Films banner, the excitement among fans is palpable, eagerly awaiting the release that promises a cinematic experience like no other. Stay tuned for a dose of Sania Khan's magic on the silver screen!