Meerut, Uttar Pradesh – Abhinav Gautam, the talented actor hailing from the heart of Meerut, is making waves in the cricketing world with his recent appearance in a Dabur Cool King TV advertisement. The ad has captured the imagination of cricket enthusiasts across the globe, especially given the ongoing excitement surrounding the India-Pakistan World Cup match. In the commercial, Abhinav Gautam plays the role of a Pakistani commentator alongside the renowned actor Ali Asgar.
Cricket, often considered a religion in India, has the power to unite or divide the nation when it comes to an India-Pakistan match. The anticipation for such an event is unparalleled. In this context, Dabur's innovative advertisement has emerged as a beacon of unity and entertainment for cricket fans.
In the Dabur Cool King advertisement, Abhinav Gautam shines in his role as a Pakistani commentator, adding a fresh and humorous perspective to the age-old rivalry between the two cricketing giants, India and Pakistan. His remarkable portrayal brings a delightful charm to the advertisement that has left viewers in awe.
With his dashing looks and versatile acting skills, Abhinav Gautam has successfully made his mark in the world of entertainment. While he is primarily known for his acting prowess, this new venture as a commentator has garnered him immense recognition. His convincing portrayal of a Pakistani commentator has added a unique flavor to the commercial.
Abhinav Gautam's journey in the entertainment industry has been nothing short of remarkable. His dedication and hard work have brought him to this prestigious moment in his career. Born and brought up in Meerut, he honed his acting skills through years of dedication and perseverance. His natural talent and charisma have always set him apart.
The Dabur Cool King advertisement not only stars Abhinav Gautam but also features the versatile actor Ali Asgar. Together, they create a dynamic duo, complementing each other's wit and humor. The chemistry between these two actors on screen is palpable and adds a layer of authenticity to the commercial.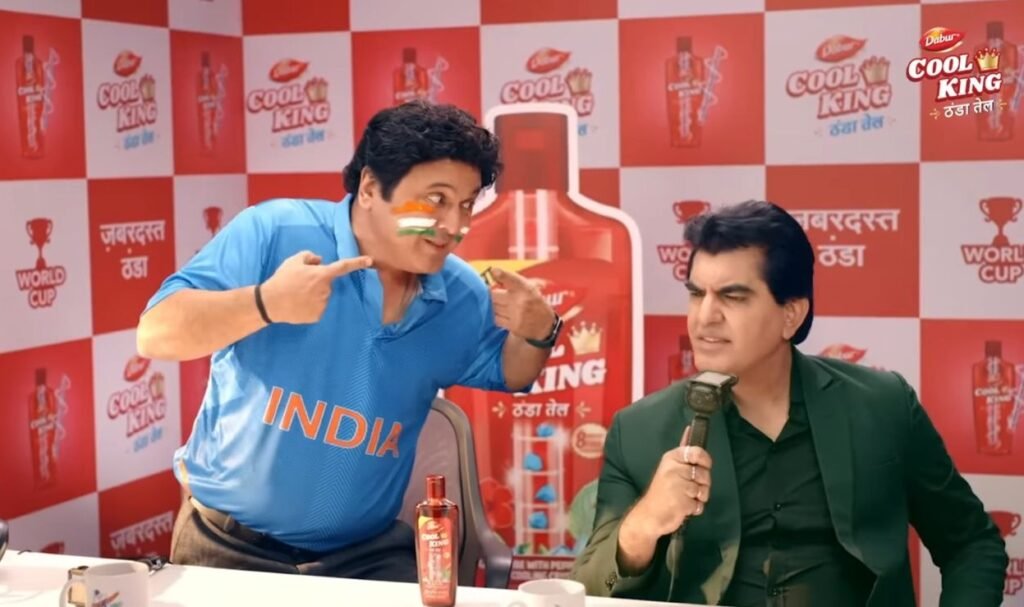 The timing of this advertisement could not have been more perfect. The anticipation for the India-Pakistan World Cup match is at an all-time high, and fans are eager to witness this historic rivalry on the cricket field. Dabur's decision to feature Abhinav Gautam and Ali Asgar as commentators in this advertisement has struck a chord with cricket enthusiasts, turning the ad into an instant sensation.
In a country where cricket is more than just a sport, it's a way of life, Abhinav Gautam's portrayal of a Pakistani commentator brings a refreshing twist to the age-old India-Pakistan rivalry. His impeccable performance is winning hearts across borders, emphasizing that sports and entertainment can transcend boundaries and unite people.
Abhinav Gautam's journey from Meerut to the spotlight of the cricket world is a testament to his dedication and passion for the craft. His portrayal in the Dabur Cool King advertisement showcases his ability to take on diverse roles and excel in every aspect of entertainment.
As a homegrown talent from Meerut, Abhinav Gautam's success story serves as an inspiration to aspiring actors from smaller towns and cities across India. His accomplishments are a reminder that with hard work, determination, and talent, anyone can make it in the competitive world of entertainment.
The Dabur Cool King advertisement, with Abhinav Gautam and Ali Asgar in the lead roles, has been appreciated for its ability to capture the essence of cricketing excitement while adding a dash of humor to the India-Pakistan rivalry. In this age of digital media and global connectivity, the ad has not only gained popularity in India but has also reached cricket enthusiasts around the world.
With Abhinav Gautam's charismatic presence, the Dabur Cool King advertisement has successfully managed to create a buzz among cricket enthusiasts, adding to the fervor of the much-anticipated World Cup match between India and Pakistan. The commercial's humor, camaraderie, and the actors' lively portrayal have made it an instant hit.
Meerut's own Abhinav Gautam is undoubtedly on the path to becoming a household name in the entertainment industry. His recent stint as a Pakistani commentator in the Dabur Cool King ad has shown his versatility as an actor and brought joy to cricket fans everywhere. The advertisement's overwhelming popularity serves as a testament to his acting prowess and the incredible impact he has made in a short span of time.
As the cricketing world gears up for the historic India-Pakistan match, Abhinav Gautam's performance in the Dabur Cool King ad is a delightful prelude, bringing fans from both nations together in laughter and camaraderie. It's a testament to the power of sports and entertainment to bridge divides and celebrate the spirit of the game.
In conclusion, Abhinav Gautam's portrayal as a Pakistani commentator in the Dabur Cool King advertisement is a testament to his exceptional talent and the ability of entertainment to bring people together. As we eagerly await the India-Pakistan World Cup match, this commercial has added a layer of fun and excitement to the cricketing fervor. Meerut's very own Abhinav Gautam has undoubtedly become a rising star in the entertainment industry, and his journey is one that will continue to inspire and entertain fans for years to come.