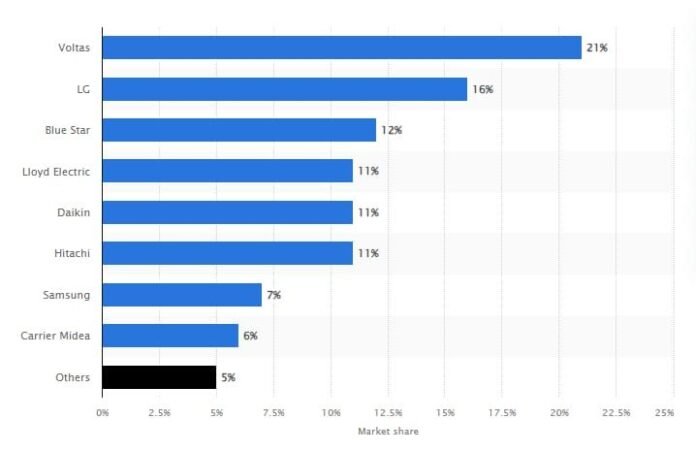 India's AC market is set to soar, reaching $399.88 B by 2028. Rising income, changing lifestyles, and urbanization drive demand. Discover key players, the 1.5-ton split AC boom, and the growth of allied service industries. Get insights into this thriving industry.
Current Scenario of the AC Market in India
A report that has been recently published shows that the Indian Air Conditioner (AC) market is experiencing a rapid growth trend and it is estimated to reach a massive US$ 399.88 Billion (32.8 Lakh Crore Indian rupees) by the year 2028. This indicates an exceptional compound annual growth rate (CAGR) of 16.1% from 2022 to 2028, demonstrating the vast potential and opportunities within the sector.
In 2022, the Indian AC market was valued at US$ 255.31 Billion, indicating the significant progress made in a relatively short period. The escalating demand for air conditioners can be attributed to various factors, including rising disposable income, changing lifestyles, and increasing urbanization across the country. As more individuals and families seek comfortable living and working environments, the demand for efficient cooling solutions has witnessed a substantial surge.
Several major international and domestic brands dominate the Indian AC market, collectively shaping its landscape. Among these influential players, the report identifies the following key market participants and their respective market share percentages:
Daikin Industries Ltd.: 11%
Voltas Limited: 21%
LG Electronics Inc.: 16%
Blue Star Ltd.: 12%
Hitachi Ltd.: 11%
Carrier Midea India Pvt. Ltd.: 6%
Samsung Electronics Co. Ltd.: 7%
Others: 5%
These renowned brands have established a strong foothold in the market, capitalizing on their innovative products, extensive distribution networks, and brand reputation. Their combined presence and market share reflect the competitiveness and diversity within the Indian AC industry.
Factors Driving the Increased Demand in AC Market in India
India has witnessed an increase in the demand for air conditioners (ACs) due to multiple causes. The most significant among them is the change in the country's household and lifestyle patterns, which can be linked to both the rise in population and the transformation of the economy. The rise of nuclear families, single-person households, job migration, and increasing purchasing power have all contributed to the increased demand for ACs. Additionally, the aspirational demand from rural India and the popularity of online sales platforms have made ACs more accessible to a wider consumer base.
Furthermore, the escalating temperatures caused by climate change have intensified the need for cooling solutions, further driving the demand for ACs across the country. In response to evolving consumer preferences, the AC industry has witnessed the emergence of smart ACs with advanced features like smartphone control, voice command operation, and real-time monitoring. The convenience and flexibility offered by these smart features have resonated with consumers and propelled the demand for technologically advanced AC units.
The upsurge of hybrid AC systems powered by solar energy, particularly during summertime, might be linked to the increase in awareness about environmental sustainability. The significant increase in the number of customers searching for cooling alternatives that are energy-efficient and environmentally friendly has played a considerable role in the adoption of such systems. Additionally, the convenience of purchasing air conditioning units online, which offer competitive pricing, a broad range of brands, doorstep delivery, and free installation services, has contributed to the widespread popularity of these systems.
Despite the challenges posed by the COVID-19 pandemic, such as supply chain disruptions and rising raw material prices, the AC industry has shown resilience. Companies have responded by offering discounts and EMI options to attract the middle-class market segment in India, driving sales and recovery. Furthermore, the government's Production-Linked Incentive (PLI) scheme, aimed at promoting local manufacturing and reducing import dependency, is expected to bolster the AC industry's growth by creating employment opportunities and supporting the overall market expansion.
To sum up, the demand for air conditioners in India has risen due to a multitude of factors such as changing lifestyles, higher temperatures, technological progress, environmental awareness, and easily accessible sales outlets. The industry's capacity to confront and overcome obstacles, as well as government efforts, will be vital in sustaining this progressive trend in the forthcoming years.
1.5 Ton Room Split AC Is Likely To Drive Exponential Growth
The Indian market for room air conditioners is witnessing remarkable growth, and the 1.5 ton room split AC segment is emerging as a key driver of this exponential expansion. As urbanization continues to reshape living spaces with compact apartments and homes, the demand for smaller and more efficient air conditioning solutions has surged. Among all AC capacities, the 1.5 ton variant is experiencing rapid growth, catering to the increasing number of families residing in smaller rooms.
Moreover, the centralized air conditioning sector in India has also witnessed steady growth, fueled by rising demand from diverse sectors like commercial buildings, hospitals, and industries. The adoption of inverter technology and the Bureau of Energy Efficiency's star rating system have further stimulated the demand for energy-efficient ACs.
The growth in India's air conditioning units market is predicted to be spearheaded by the western states such as Maharashtra, Gujarat, and Rajasthan, with the northern regions comprising Delhi, Haryana, Uttar Pradesh, and Uttarakhand following closely behind as temperatures continue to surge. In the last decade, the scorching summers in India created new records for excessive heat, and this has incredibly made air conditioning an indispensable feature in most Indian homes and workplaces. Due to this prevailing trend, according to data provided by Statista, air conditioner sales have surged by four times over the past twelve years and are expected to reach a whopping one crore units in 2022-23.
The outlook for the 1.5 ton room split AC segment remains highly promising, with its efficient cooling capacity and suitability for compact spaces driving its popularity and contributing to the overall growth of the Indian AC market.
Growth of Allied Service Industries
The AC market growth prediction will also bring more businesses to the allied service industries like AC spare parts sellers, AC repair service providers & AC renting services across the nation.
According to P Dutta, owner of Urban Service Plaza, a renowned third-party AC repair centre in Kolkata, told us that, "Although the majority of the consumers prefers to repair their AC unit from brands, those who have out of warranty AC unit call us for a prompt doorstep service. Because brands most of the time give first preference to the warranty products customers and causes an unnecessary delay for them."
There are many other local and national players in the AC repair market in Kolkata. Among them, Urban Company, Home Triangle, One Assist, Service on Wheel, and Concord Service are worth mentioning because of their market share.
Sources:
https://www.6wresearch.com/press-release/india-air-conditioner-market-revenue-size-is-projected-to-grow-at-a-cagr-of-161-during-2022-2028
https://www.statista.com/statistics/1018500/india-leading-ac-providers-market-share/
https://www.6wresearch.com/industry-report/india-air-conditioner-market-2021-2027
https://www.bqprime.com/business/indias-air-conditioner-market-set-to-turn-hot-and-its-not-just-the-summer
https://finance.yahoo.com/news/india-air-conditioner-market-report-101800613.html